I sold a few of my cable headbands, mostly around Christmas, and I hadn't realised until last week that I had run out of the smallest size ear warmers so I picked up my knitting needles and whipped out a few more of these hand knit cable headbands: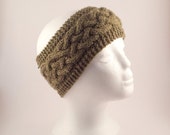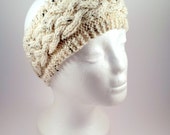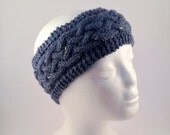 Because these cable headbands seem to have become popular in my shop (Yay!), I hope to knit some more very soon, in other colours and using various cable stitches to add a bit more variety (maybe cotton for the summer?).
I am planning on writing the corresponding knitting patterns too. I'm not sure whether I should publish knitting patterns for these headbands one by one or by groups of maybe 3 different designs, so I may try both options and see what works best (I know that if I was to choose between 3 single patterns at €3.80 each and 3 patterns together at around €8.00 or €9.00, I'd probably go for the second option, but unfortunately (or fortunately?) I'm not in everyone's head.
For now I am working on knitting and relisting my original ear warmers in the original colours while also testing a new amiguri pattern for
Peeko Crafts
. I expect I'll have all this done by St Patrick's day and then I will start on my new designs.
Don't expect too much too quick, though, as I've also just taken up an online accountancy course: I can't expect knitting to feed my family but hopefully refreshing my accountancy training will help me get a decent paying job (and maybe less time for blogging and social media, but I'll make sure to keep a few hours for knitting in the evenings;-)
***Follow me on Twitter and Like Sophie's Knit Stuff on Facebook for more updates***