Time has passed so quickly again I just realised this is my first 2015 blog post so I wish all my readers (all 3 of them;) a belated Happy New Year!
Shortly before Christmas I tried working on a new knitted hat pattern that I think will never happen now: after having to pause my pattern designing so I could knit some cabled headbands and a custom crochet phone cosy for some Etsy orders, I realised knitting cables was putting pressure on my left hand and hurt my thumb so I took out my baby yarn and started making some crochet baby blankets instead.
Since my hand was sore I was crocheting pretty slowly for a few weeks but some time in January I managed to finish my first baby blanket, listed yesterday in my
Etsy shop
: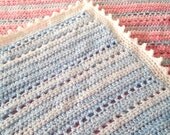 Then I made another one, also listed yesterday: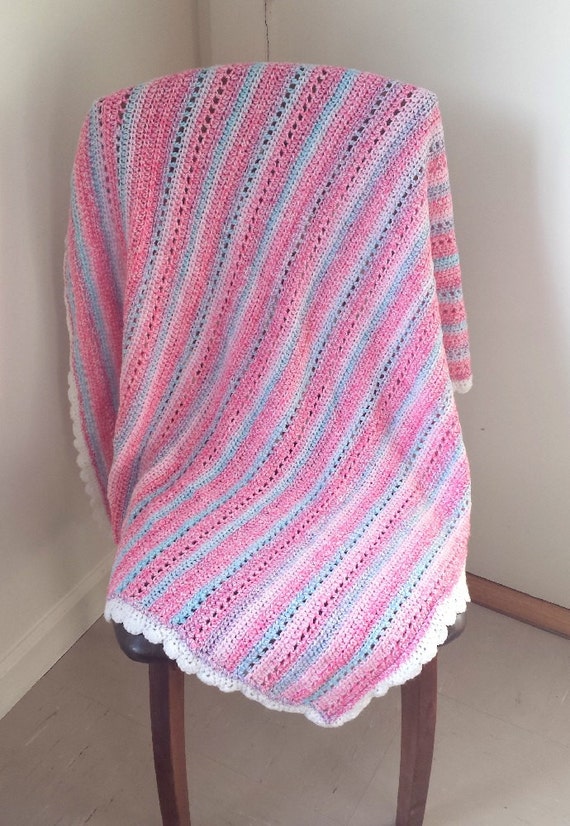 I have a lot more baby wool to go through, so I'm not sure I can be stopped until I run out. It is time-consuming, but I am enjoying the "no need to think" bit and the regular changes of stitch or colours mean that it never becomes monotonous: I've started doing this one while watching "Orange Is The New Black" on Netflix, only when my girls are at school, though, as it's a strictly over 18 show!
I'm not sure whether I'll just do a white border or pick a darker blue to spice up it up a little: I looked at the different shades of blue I have at home but none seems to be the right one (I know I can be very fussy, but I can't have anything less than perfect, can I?) so maybe I'll have an excuse to go to the yarn shop soon, but first I'll make a start on a pink one because I'll be faced with the same dilemma when I finish this too;)

So, lots more baby blankets to come in various colours (I think I need to borrow a Dulux colour wheel;), and lots of Netflix series to watch in the next few weeks for me!
***Follow me on Twitter and Like Sophie's Knit Stuff on Facebook for more updates***