In my last blog post I mentioned that I had been partnered with another Irish Etsy shop for the
SEO course
so today I wanted to write a little bit about
Monofaces
.
I was lucky to have such a nice shop to work with and a bit worried when having to do their critique because I didn't think my humble little knitting self had much advice to give a team of talented artists like Edita and Mel!
Quoting Monofaces About page: "Our mission is to give visual pleasure, original presents & striking interior detail. MONOFACES unique paintings range from legends of the past to people of today".
The paintings and apparel that can be found in Monofaces feature mainly people, you can see a lot of celebrities and legends of the past being represented in their art but they also do customised paintings using photographs: great idea for a gift or if you want a beautiful painting of your children to feature on your wall.
Monofaces's style can be described as Art-deco, Pop Art, and mainly black and white stencil monochrome art, they paint on various surfaces such as wood or canvas and have their art reproductions available for people on a tight budget. For wearables they also do tote bags, T-shirts, they have recently started doing phone cases and even rugs!
I've tried picking my favourite item from their shop but it's really hard to choose just one so here are a few of my favourite items from
Monofaces
:
First up is this beautiful
painting of
Audrey Hepburn
on canvas: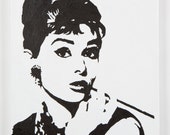 Because I'm a child of the 80's (born in the 70's but too young to appreciate good music then;), I also love this
painting of Morrissey on wood
: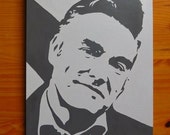 To finish, I think I would look very cool sporting this
Walter White from Breaking Bad tote bag
(for carrying my laundered money, erm...knitting WIPs, perhaps?):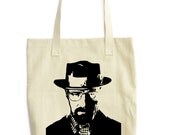 ***Follow me on Twitter and Like Sophie's Knit Stuff on Facebook for more updates***